Thanks to Dave Fisher for photos and information on 1982 panto below.

Dave Fisher writes;-


I never associated Wood Green with 'On The Buses' till I read your website, yet these photos were taken just round the corner from the old Eastern National Depot in Lordship Lane which was probably still there at the time!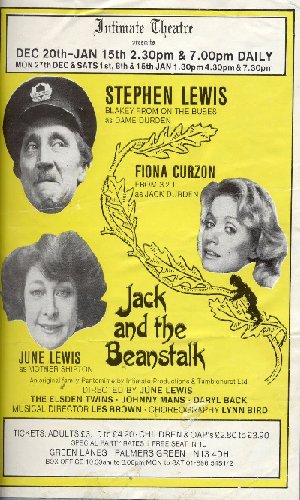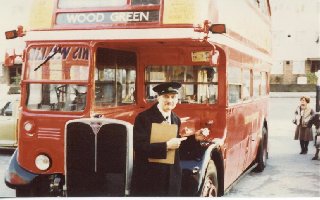 Stephen lewis as Blakey promoting the pantomine
Our bus is an RT (not a Routemaster!) which predates the RM by a few years.
The first RT ran in 1939, and about 150 were produced before WW2 stopped production. When the war was over, they began being made again and in total numbered about 7000 vehicles in total. The last one ran in public service in 1979 at Barking in Essex and many are preserved.

The Routemaster prototype first appeared in about 1954, but production didn't start till about 1958. The last ones ran in London just over a year ago, though there were less than 3000 produced!

Everyone knows the name 'Routemaster' especially as they lasted in service for a longer time than the RT and they do look very similar, but they were easily outnumbered by the RTs.

Oddly enough, most of the films which included London buses, used RTs: Summer Holiday was an RT, and the Harry Potter 'triple decker' was a number of RTs joined together, incidentally filmed just along from the Intimate Theatre in Green Lanes.